Metal Solution USA LLC Services
Powder Coating
Metal is a robust material, but it is not indestructible. Through time, your metal products can suffer from corrosion, scratches, chemicals or fading. 
Coating success depends mostly on choosing the right pretreatment. By applying powder coating, your products will be offered optimized durability and protection.
The protective layer shields the material beneath from destructive forces and makes it stand the test of time. Not only provides perfect protection, but powder coating also comes with aesthetic features that add value to metal products and creative pieces.
Moreover, this technique can give used metal products a new life when combined with expert sandblasting services and fabrication. When it comes to powder coating service, Metal Solutions is sure to have what you need.
Best Metal Fabricator In Houston, Texas
Metal Solution USA LLC
Since our founding in 2015, our goal is always to provide the highest quality service at an affordable price point. For years, Metal Solutions has been developing our own process and powder coating technology. Our environmentally-sound process and commitment to quality have helped us earn a reputation as market-leading specialists. Innovative technology drives our services forward, while leadership in the industry keeps us up on all trends with proven experience at every turn.
Our powder coating components using epoxy, nylon, polyester, urethane, vinyl, and bespoke thermosets allow us to get the precise color, texture, and variable thickness that your products require. By using a long-lasting powder coating, we can increase the strength of your metal products. 
Our Responsibilities
Why Choose Us
Metal Solutions offers the highest-quality powder coating service for any industry. We use only the most reliable and modern coating equipment to ensure that your metal products are thoroughly protected, giving them a durable shine. 
In addition, we have experience applying this technique. Therefore, you can trust that we will give your project an industry-leading finish with our sustainable methods while reducing environmental effects and emitting VOCs as little as possible!
Metal Solutions's experienced technicians and cutting-edge facilities are equipped for all of your powder coating requirements. We are confident that our state-of-the-art facilities will meet all your high volume and quick-turnaround needs
Moreover, whether you require a small batch or a big production run of components coated, we will treat each order with the same care and attention to ensure a uniform coating and exceptional application.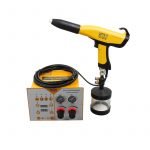 Metal Solutions is dedicated to our clients' satisfaction with a wide range of products and services that will meet any needs. We specialize in powder coating large and small industrial parts, including:
Plant Machinery

Aluminum & Steel

Fencing

Awnings

Machined Electronic Housings

Metal Fabrication
Interior / Exterior Decorations

Foundry Castings

Instrumentation & Electrical Components

Industrial, Agricultural & Construction Equipment

Automotive Body Frames, Suspension Components and Housings
You can trust the quality of our powder coating service to meet the most difficult challenge with powder coatings.